Inligo Network prepared for increased demand with bold strategy in Northern Territory
Economists say the Territory's close proximity to South-East Asia offers Darwin an unparalleled opportunity to close the gap between the Australian and booming Asian digital economies.
In the past year, Vocus, Hawaiki and Inligo Networks have announced new international digital connections linking Darwin to South-East Asia and North America.
These new high-speed, secure information highways will see the Territory taking a leading role in Australia's digital economy and help unlock Darwin as a major new data hub for the Asia-Pacific region.
Vocus' Darwin-Jakarta-Singapore cable will be the first direct fibre link between Darwin and Singapore with installation starting this year and operational by mid-2023.
Asia Connect Cable to provide direct international capacity
The Inligo Network Asia Connect Cable System (ACC-1) is the Territory's third cable connection to Singapore, with links to Indonesia, East Timor, Guam, Japan and the United States.
The $700 million Inligo subsea optical cable begins roll-out this year and is complemented by Inligo Networks new $200 million terrestrial cable Unite, which will connect Darwin and Adelaide, then potentially to Melbourne, Canberra and Sydney.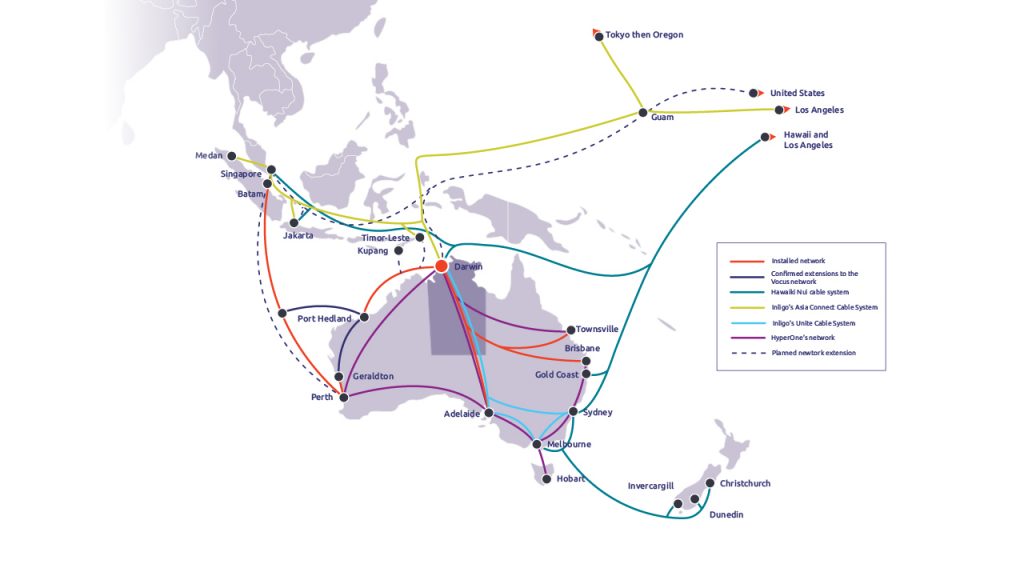 These major investments in new lightning-fast fibre cables come at the same time as a commitment from two Australian companies, NEXTDC and DCI, to establish world-class data centres in Darwin.
Establishment of new Data Centres in Darwin
This year, NEXTDC begins construction of its $100 million data centre in the Darwin CBD.
The Darwin data centre – to be known as D1 – will bring world-class global best practice for cloud and digital services access, enabling Territory businesses and communities to access the full potential of NEXTDC's ecosystem, as well as world leading, security, resilience, and sustainable operations.
The facility has a targeted IT load of at least eight megawatts and will have direct access to Darwin's major undersea cable and inter-capital infrastructure.
About 200 jobs are expected to be created during construction and 20 during operation.
NEXTDC have also secured a first right of refusal over a second Darwin site for their D2 facility to further boost the region's long-term technology infrastructure needs, including a hyperscale campus catering to the emerging South Asia region and the NT's growing subsea cable connectivity.
DCI also plans to build a data centre in Darwin as part of its global expansion strategy, with an IT load of 10 megawatts.
DCI chief executive Malcolm Roe says: "Darwin is the command hub in the north for Australian defence and coastal border forces, and hosts significant US Defense technical and aerial assets.
"The rapidly growing space sector is also seeing organisations such as NASA and other global players establishing a presence in the Territory.
"This is all in addition to the existing mining, agriculture, and tourism sectors."
"These industries require secure ICT infrastructure, so it makes perfect sense for us to increase our footprint to include the NT."
Global internet traffic surged by more than 40 percent in 2020 as a result of increased video streaming, video conferencing, online gaming and social networking.
This growth comes on top of rising demand for digital services over the past decade; since 2010, the number of internet users worldwide has doubled, while global internet traffic has expanded 15-fold.
The Asia Connect and Unite Cable systems will link data centres in Darwin to international and domestic destinations on higher capacity lower latency network based services. The Asia Connect Cable will have one of the lowest latency paths between Southeast Asia and the United States, but it's path from Southeast Asia to Darwin, from Japan to Darwin and Darwin to the USA will be one of the lowest in the region.
We expect the level of customer demand for data services in Darwin to rise considerably over the next few years as planned data centres in Darwin come on stream and demand for a shorter latency path between Adelaide, Melbourne, Sydney and Asia are sought by customers.

Mr. Anthony Callanan, Chief Technology Officer, Inligo Networks
Inligo Networks is preparing for the demand upswing with several high capacity fibre pairs to connect Darwin from both the International and Domestic segments.
Market analysis has capacity demand between Australasia and Asia increasing by seven times before the end of this decade. Inligo Networks is well placed to provide that much needed capacity and the highest capacity into Darwin of any international cable system.